I was delighted this morning to see that 2 shows I edited were among the Nominees for the IFTA Television awards to be held in Dublin in 3 weeks time. Unfortunately both Arkle: The Legend Lives On and GAA USA are up against each other in the sports category. To further complicate the matter my brother and my office mates the Second Captains also received a nomination in the same category. So its safe to say I have some divided loyalties. One way or another as long as the Conor McGregor documentary doesn't win I'll be happy!
Arkle: The Legend Lives On was a Touchline Media production for Channel 4 and TG4. The film was a look back at the legendary race horse Arkle. The documentary was wonderfully directed by Luke McManus and produced by Denis Kirwin and Stephen Cullinane. I had a terrific time editing the doc with Luke over 4 frantic weeks last year in Highwire. The film already won the Best Sports Award at the Celtic Media Festival earlier this year and I'm sure you could get could good odds on Luke taking home another trophy in a few weeks. Personally I also really enjoyed writing about it here and calling the post 'Blogging a Dead Horse' which was a punning highlight of this blogs output.
GAA USA was produced by Sonta Films for TG4 and aired earlier this year. The series looks at the oft forgotten history of Gaelic Games in the United States and is presented by All-Ireland winning captain Dara Ó Cinnéide. The series was directed by Seán Ó Cualáín and produced by his brother Eamonn, Raemonn Mac Donnacha shot it and Darragh Dukes did the music. I spent the best part of last winter working on the series and I'm incredibly proud of it. This series marked my fourth time working with Seán (we are currently on number five) and its proved to be a really fruitful collaboration. An Godfather:Bryan Rooney, Rás Tailteann:Rothaí an tSaoil and Mar A Cheile Muid are all very diverse films that I'm thrilled to have played a part in. These films added with Seán's previous work I think position him as one of the premier chroniclers of both rural Irish life and the Irish immigrant experience and he'll kill me for saying it but I think he may well be this generations Bob Quinn.
Like I said complicating the matter is that the boys in Second Captains have been nominated for Second Captains Live. The live sports show is quite frankly outrageous in its ability to not only set new standards in sports broadcasting but maintain them too. I think this clip of them interviewing Ciaran McDonald exemplifies pretty well the work they do.
The show also features a weekly opportunity for my brother Ciaran to demean himself and his journalism degree by dressing up in humiliating costumes. Whats not to love about that?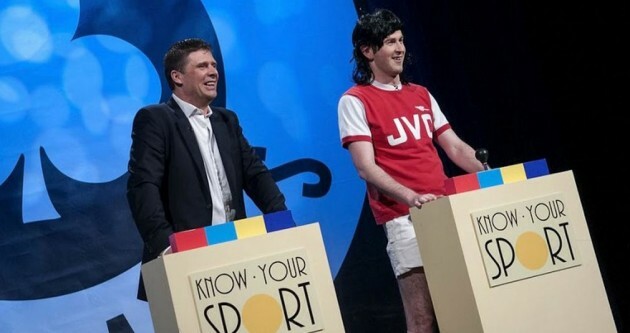 I share an office with the boys and I can safely say that they along with Aideen, Karen, Rebecca, Pat and Collie are the hardest working motherfuckers in the business and if they do end up taking home the gong it'll be richly deserved. They also, as I'm frequently and embarrassingly reminded, play a mean game of table tennis.
I was also thrilled to see my buddies Mark Henry, Colm Bairéad, Cleona Ni Chrualaoi, Katie Holly, Mick Mahon and David Power get richly deserved nominations in other categories. Best of luck to them and to all the other nominations. Overall the standard of work last year was incredible, heres the full list of nominees